5 Holiday Party Networking Secrets from Laura Schwartz
I
t's office party season! Although this is a great time to mingle with your coworkers, you should also take advantage of the networking opportunity. Former White House Director of Events, author and our managed keynote speaker, Laura Schwartz, has five holiday party networking secrets to help you make the most out of your work party.
My TOP 5 Holiday Party Networking Secrets
By Laura Schwartz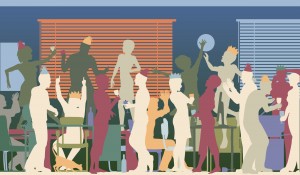 With office party season right around the corner, I thought it might be time for a couple of my favorite tips and tricks to be successful in the networking game. As a professional speaker, I talk a lot on the subject of networking – how do I do it, what's the "secret sauce," etc. And of course, I'm always happy to divulge my tricks of the trade. Below are several of my favorite tips for navigating the choppy waters of holiday networking events.
Is It Cocktail Talk Or Your Cocktail Talking?
"Will there be cocktails?" When it comes to networking, if a drink makes you feel more relaxed, have one! But make sure you watch the alcohol content. Nothing can derail a potential networking opportunity quite like too many martinis. Remember to order your drinks 'lite' after the first pour and you'll be fine. For my vodka sodas, I get to know the bartender at the first drink, give a $5 tip and let him know I like them light on the vodka and heavy on the soda; he/she will do just that for the rest of the night and I'll feel great the next day with a stack of new business cards in hand.
The Fine Line Between Stalking And Networking
The power of research is central to networking! Find out who's going an event and who's who by using Google, Facebook, LinkedIn, Twitter etc. to research! It's amazing what people are sharing, and once you find out, you can uncover a natural connection to make in conversation with the goal in mind to continue that conversation back in the office and beyond. Connection = Conversation.
Optional v. Opportunity
What you do outside the office is sometimes more important that what you do at your desk. There are so many invites, evites, paperless posts…..we are tempted to say no to the "optional" happy hours, secret Santa exchange and random holiday parties – but these are not optional – they're opportunities – to climb your ladder, land the promotion, gather information and get to know those around you better. So even when you're burnt out from the holiday rush and don't feel like another party, tell yourself to go for 20 minutes. Then if you leave after 20, you haven't given up too much of your life – OR that 20 minutes could turn into 2 hours and change your life!
And don' t just let the invite come to you – go to the invite!
So many fabulous charity galas and seasonal celebrations are going on – check your local listings – for Chicago it is CS Magazine, Michigan Ave Magazine the CS Charity Datebook 2016. If you've been trying to get to someone or some company/organization, but can't get past the secretary, find out what they're involved in and what events that group has for the season. Then, buy a ticket, write it off and approach that person at the buffet, line to the bar etc. – there's no one to tell you he/she's "on the phone" this time.
Conquering Conversation
The key to great conversation is knowing a little about a lot – in other words, be able to talk about something besides the weather! This power of knowledge can add a spike to your credibility in introductory networking conversations. Find out nuggets on the location, read a book review – arm yourself with information that will enable you to take part in any conversation – not just the topics you're interested in. Also – use people's names during the conversation … not only will it help you remember their name, but it's proven they'll pay more attention to what you're saying as you say it!
Listen & Learn
Larry King once said "I never learned anything when I was talking," and he was RIGHT! This is your opportunity to gather information and find the connection that continues the conversation … into the office and onward to that promotion!
For more information on booking a managed keynote speaker for one of your events, check out www.eaglestalent.com or call our office at 1.800.345.5607.
This entry was posted in
Guru Guidance
,
Speaker Feature
,
Speakers Bureau Trends and News
,
Tips and Ideas
,
Uncategorized
and tagged
eagles talent
,
eagles talent speakers bureau
,
holiday party
,
Laura Schwartz
,
leadership
,
motivational
,
networking advice
,
office party tips
,
women in business
.